Washington must heed UN chief's words of caution
Share - WeChat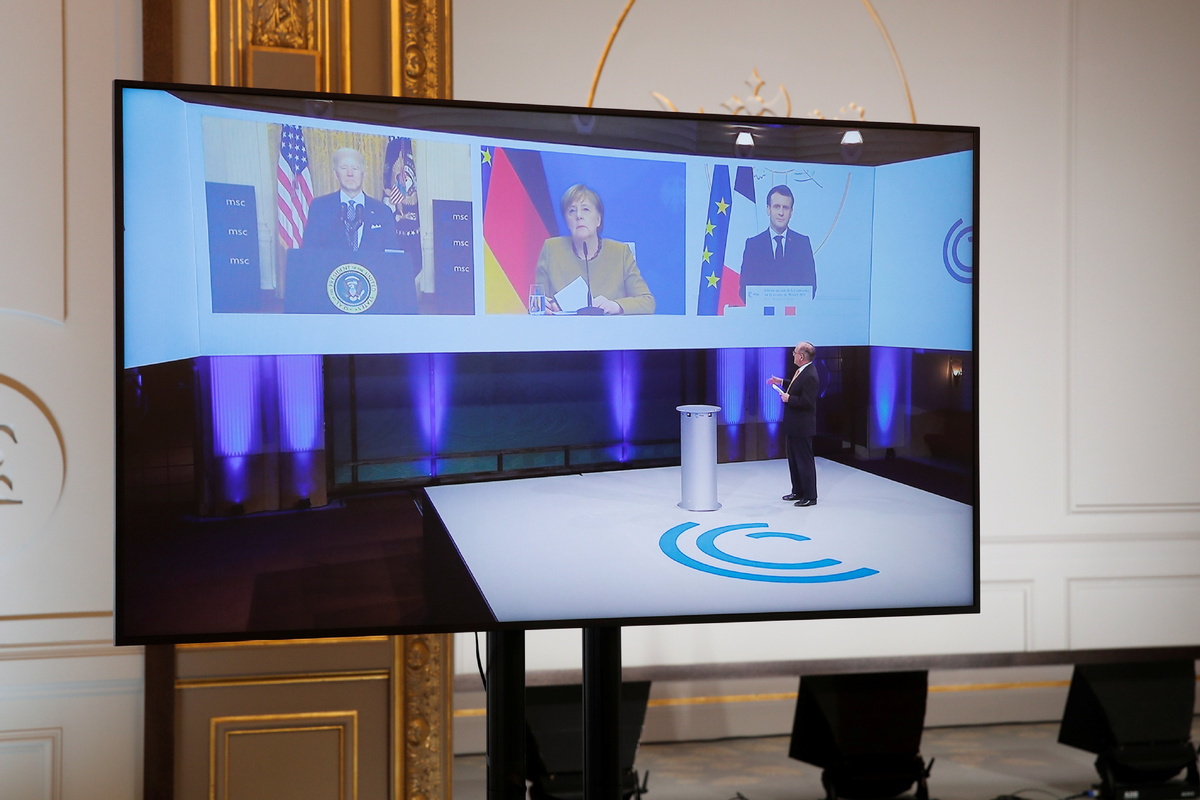 It's a shame that the journalists covering the Munich Security Conference on Feb 19 focused on US President Joe Biden's claim of "America is back" and ignored United Nations Secretary-General Antonio Guterres' message calling for global solidarity and cooperation to tackle common challenges.
Guterres' message included a call for China and the United States to ease geopolitical tensions. He said, "we cannot solve the biggest problems when the biggest powers are at odds," and warned that a technological and economic divide risks turning into a geo-strategic and military divide, stressing that "we must avoid this at all costs".
President Xi Jinping, in his conversation with Biden over phone on Feb 11, emphasized that China and the US join hands to tackle global challenges such as climate change, noting that it's the common desire of peoples of both countries and the international community to see sound and stable China-US relations.
And on Monday, State Councilor and Foreign Minister Wang Yi called on the US to resume bilateral cooperation and revive the exchange mechanisms abandoned by the Donald Trump administration and lift the tariffs on Chinese goods and sanctions on Chinese companies imposed by Trump.
Biden did say his speech is "not about pitting East against West" and "it's not about we want a conflict" while rejecting a return to "the rigid blocs of the Cold War" and stressing that "competition must not lock out cooperation on issues that affect us all". But he kept attacking China and Russia and called on US allies to rally behind his administration.
The latter part is typical US politics of seeking enemies. Writing for the Financial Times, Janan Ganesh put it aptly in his Feb 16 column: "Without an external foe to rail against, the nation turns on itself." China, given its huge economy and a different model of government, invokes a sense of otherness in many politicians in the US and other Western countries and thus fits well the US requirement of an enemy.
But the world has changed dramatically and become more multipolar after four years of Trump's presidency. So I enquired with Munich Security Conference Chairman Wolfgang Ischinger about the rationale of holding last week's virtual meeting by inviting only US and European leaders, and none from Asia, Africa or Latin America. For me, I said, the "idea of the West" is outdated in today's multipolar world. Ischinger said he disagreed.
In his speech, Guterres mentioned only G20, not G7. It seems the so-called like-minded democracies are in trouble and disagree on many issues.
Biden had previously talked about hosting a summit for democracy. He mentioned the word "democracy" many times at the Munich Security Conference. But former NATO secretary-general Javier Solana wrote in an op-ed on Monday that sharing the same political system does not imply sharing the same interests and priorities, so providing a coalition of democracies with a concrete, substantial and lasting objective is practically impossible.
Also, Solana warned that to situate a dividing line between so-called democracies and non-democracies at the center of international relations is "to risk precipitating what we can still avoid: another Cold War, this time between the US and China".
In fact, Biden's catchphrase "America is back" has also been called into question by Richard Haass, president of the Council on Foreign Relations, as he said on CNN on Sunday that "we're not back either objectively here at home or in the eyes of others", citing a host of US domestic challenges.
There's no doubt the US' priority should be to fix the many problems at home, reverse all of Trump's disastrous policies internationally and work with not just allies, but also countries with political systems different from that of the US to address global challenges and manage their differences.
Guterres' stern warning must be heeded.
The author is chief of China Daily EU Bureau based in Brussels.
chenweihua@chinadaily.com.cn
The opinions expressed here are those of the writer and do not necessarily represent the views of China Daily and China Daily website.
If you have a specific expertise and would like to contribute to China Daily, please contact us at opinion@chinadaily.com.cn, and comment@chinadaily.com.cn.
Most Viewed in 24 Hours
China Views