China's coldest village sees tourism warm up amid forest protection efforts
Share - WeChat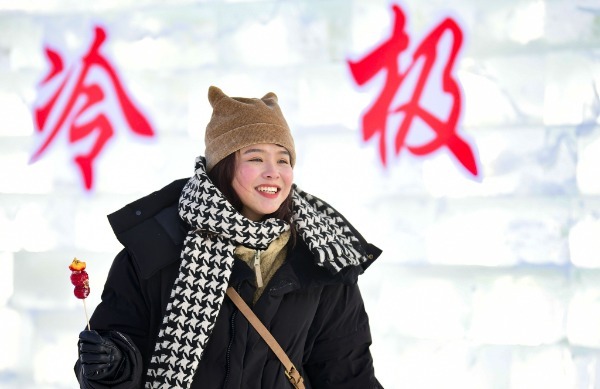 China's Lengji village, meaning the coldest village in Chinese, has become a thriving tourist destination, attracting numerous visitors to enjoy breathtaking winter scenery.
The village is also known as "the Cold Pole Village" because it is located in Genhe, a city known as the country's "Pole of Cold" in the northernmost tip of the Inner Mongolia Autonomous Region.
Tourists have flocked to experience rural life in Lengji village where temperatures often drop below negative 30 degrees Celsius. They also have the opportunity to observe local villagers working in the frigid winter to protect the natural environment.
To protect the snow-covered forests, villagers work a variety of jobs at a local forest farm under environmental conservation projects. Among them is forest ranger for Jinlin Forest Farm at the Daxing'anling Forestry Administration Cheng Shanzhong, who patrols 100-hectares of forest area, a 40-minute drive away from the village.
"Every day, we would patrol the forests. The forests of our motherland must be protected," said 51-year-old Cheng. "The forest has been under protection, not only has its scale expanded, but it has become lusher and denser as we can see. The protection has also brought more wild animals."
After completing his routine patrol, Cheng returned home and cooked local typical dishes called "eight big bowls" to treat around a dozen tourists visiting his village.
In 2015, the Jinlin Forest Farm carried out a number of reforms, suspending commercial logging at the forests as part of conservation efforts to preserve the natural landscape.
Former factory buildings were offered to forestry workers with entrepreneurial ideas and eagerness. Some of them have developed family tours in the area, boosting the development of "China's Cold Pole Village" scenic spot.
The local tourist industry has boomed after ski facilities, horse-drawn carriages, ski rings, snow sculpture creations, snowmobile activities and other projects were introduced.
The Lengji village saw 36,000 trips in 2020, amid the coronavirus pandemic, which also led to Cheng's income increasing to more than 5,000 yuan (around $722) every month on average.
"Through our efforts, we will definitely make China's Lengji Village a more famous landscape," said Cheng.