HK civil servant sees motherland in new light
Share - WeChat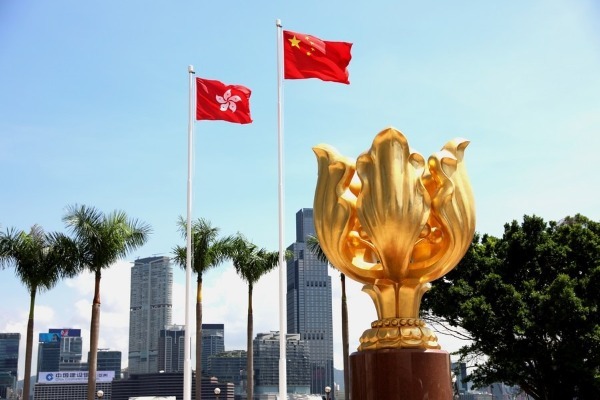 HONG KONG - More than 20 years ago, on the night Hong Kong was returned to the motherland and no longer under British rule, Ma Chi-sing, a civil servant, did not feel much difference in his heart. His life remained unchanged and so did his work. He and his colleagues continued to use paper with a crown printed on it, and everything seemed to be the same as before.
"When I became a civil servant, I was told to be loyal to the British queen," Ma says. "Back then, I didn't have the concept of China as my country. Hong Kong returned to the motherland in 1997, but many of us didn't have a sense of returning at that time."
Ma joined Hong Kong's Water Supplies Department in 1992. Before that, he studied at a Catholic middle school and majored in civil engineering at Hong Kong Polytechnic. Like his schoolmates, Ma did not know much about Chinese history after the Opium War. "We weren't taught the subject at school and no one at home talked about it," he says. "People only cared about their incomes."
Ma's ancestral home is in Huiyang, Guangdong province. In his memories of visiting his grandmother in his early years, the hometown was nothing wonderful or special to him. "I remember we went across the Lo Wu checkpoint (to enter the mainland). The other side was bleak. The bridge linked two totally different worlds," he says.
Ma's change of heart came after he joined the Hong Kong Federation of Trade Unions. He began to read about Chinese history, visit the mainland more often, exchange ideas with other people, and learned more about the country.
"I used to believe the 'China Collapse' theory, which was widely reported in newspapers in Hong Kong and the West. But 10 years passed, then 20 and our country has become better and better," Ma says. "It was that fact-the national development-which changed me."
Ma has made countless trips to the mainland in recent years, and almost every time he was surprised by its rapid development.
During a trip to the mountainous Guizhou province in 2018, he was awed by the 500-meter Aperture Spherical Radio Telescope, or FAST, the world's largest single-dish radio telescope. He also found that the local ethnic people in Guizhou were leading a good life, unlike what he had seen reported elsewhere. "I could see the happiness from their smiles," he says.
After the long journey of building a sense of national identity, Ma did not hesitate in proffering his signature, swearing to uphold the Basic Law and pledging allegiance to the Hong Kong Special Administrative Region government. "I was very glad to see the document," he says.
In fact, Ma had repeatedly appealed to the HKSAR government that Hong Kong's civil servants should confirm their love of the country and Hong Kong through the taking of an oath or signing of a document.
Ma stresses the necessity of the move, as he still clearly remembers the unprecedented chaos in Hong Kong in 2019 and was saddened at the involvement of some civil servants. Some were even arrested for participating in violent incidents.
He believes the requirement to take the oath was only the first step of a greater mission of improving the national concept of civil servants.
He suggests that the HKSAR government promotes exchanges between the mainland and Hong Kong's civil servants and encourages more civil servants to see with their own eyes the development of the country. "Seeing is believing," he says.