The rural road out of crushing poverty
Share - WeChat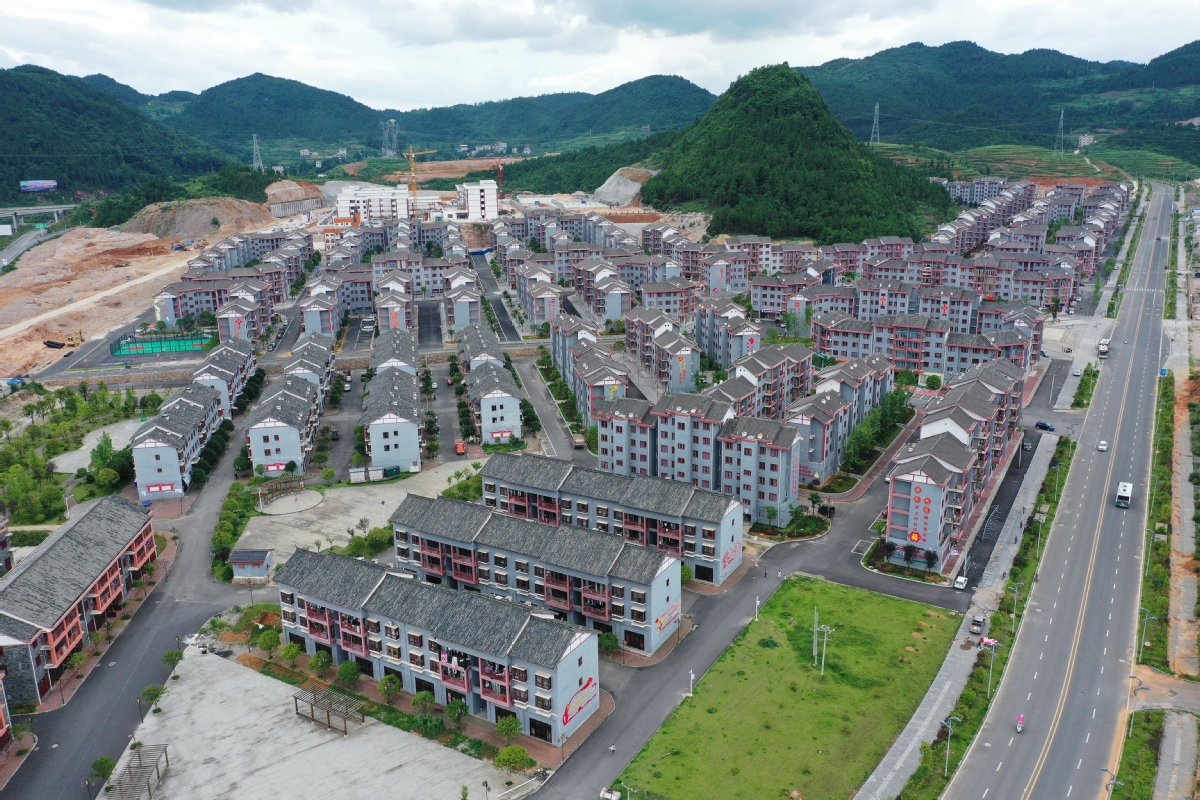 Resettlement in modern housing complexes a major factor in changing fortunes of poor farmers
Editor's Note: During this year's two sessions-the annual meetings of the National People's Congress and the National Committee of the Chinese People's Political Consultative Conference-China Daily will publish a series of stories focusing on the achievements the country made in various fields during the 13th Five-Year Plan (2016-20). They show how the country met its development goals in different fields in the face of numerous challenges.
Life took a positive turn two years ago for Zhang Yushi, then a poor farmer in hilly Guizhou province, who has hearing problems and difficulty walking.
The watershed moment was when the 39-year-old, his wife Zou Linglian and their two school-age daughters, moved into a sprawling modern resettlement complex.
His new community is near Dajiaochong, a manufacturing neighborhood of Tongren in the northeast of Guizhou, which used to be home to some of China's poorest families.
The new three-bedroom apartment, which was given to Zhang as part of a local poverty relief project, is furnished with a sofa, television and other home appliances. It's a far cry from the crumbling house made of wood and earth that he inherited from his late grandparents who raised him.
Zhang, who now owns a furniture and home appliances store near his apartment that he opened with an interest-free loan arranged by local authorities, said the tile roof of his old home needed constant repairs. "You had to mend the roof regularly or it would leak on rainy days, which are common in the area," he said.
Zhang was among 125,000 people moved closer to schools, hospitals and factories in Tongren as part of a broader effort to curb rural poverty in the region. The Dajiaochong resettlement, the largest of its kind in Tongren, showcases how local authorities moved to enhance settlers' sense of belonging and financial security in their adopted homes, by creating jobs and rolling out community services.
Zhang's resettlement complex is two hours' drive from his isolated family home and has a library, vocational training center, multiple bus services and a school-conveniences he could only dream about not so long ago.
As a farmer's son who barely finished middle school due to strained family finances, Zhang, like most young people in rural Guizhou, toiled in faraway factories for meager pay most of his adult life. Loud construction work damaged his hearing. The shortage of jobs near his home sent him to Dongguan, a manufacturing hub in Guangdong province, with his wife and children left behind in order to minimize expenses.
Zhang insisted that his wife rent a room in a nearby town to cook for girls enrolled in a school there.
However, this created extra bills for the family, which was labeled as being impoverished shortly after China intensified poverty relief efforts nine years ago.
Zou, who had stayed with her husband for a short period in Dongguan, said the life of a migrant worker was much harder than she had imagined. "Not much money was left after paying rent, water and electricity bills," the 34-year-old said.