US anti-Asian violence spurs volunteer patrols
Share - WeChat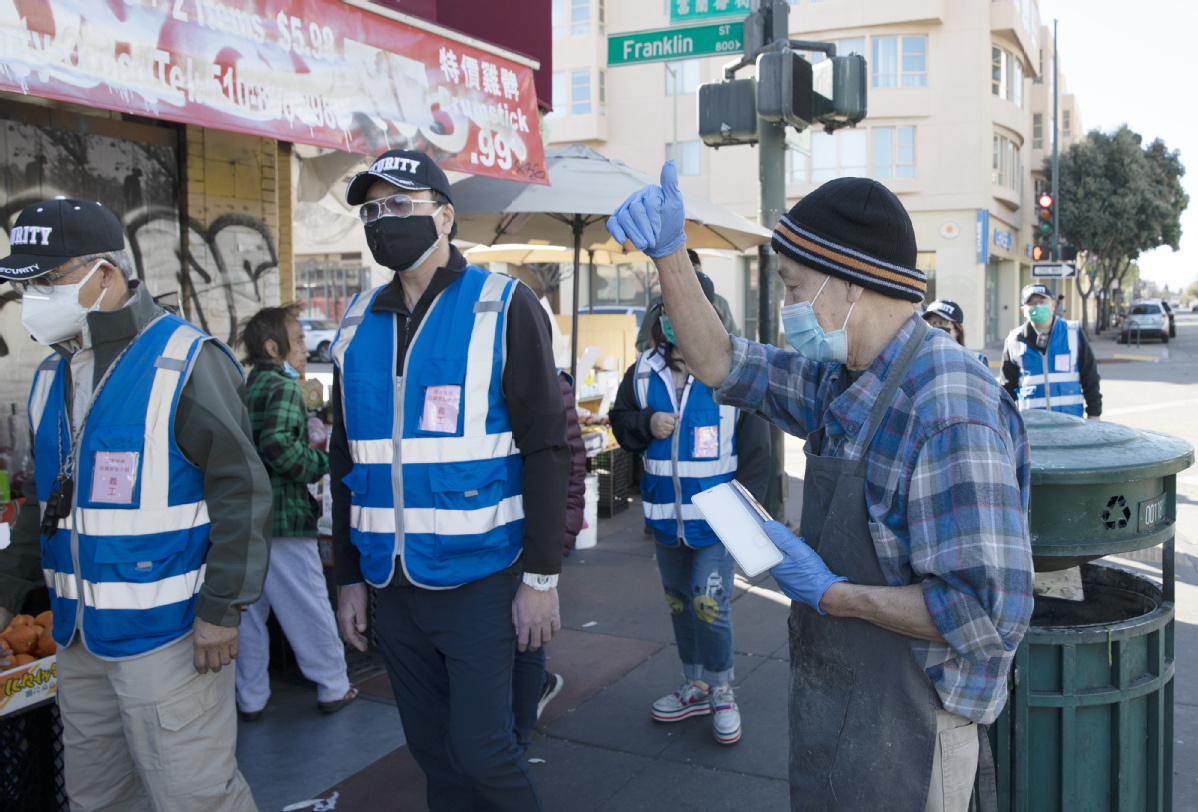 Reported cases are 'the tip of the iceberg' with expert calls for more ethnic studies
Putting on a blue safety vest and a black security baseball cap, Wendy and about 10 volunteers began walking the almost empty streets in Oakland's Chinatown on a late afternoon.
They checked the shops, explained to business owners and residents how to report a crime, and monitored potentially suspicious activities in the neighborhood. The two-hour patrol is now a routine for Wendy, a short middle-aged woman who preferred to be identified only by her first name to keep a low profile.
Similar patrols have sprouted in other Asian American neighborhoods in California as a result of brutal attacks against Asian Americans who have increasingly been targeted since the pandemic outbreak.
The online platform Stop AAPI Hate received more than 2,800 self-reported racist incidents from across the country from March to December last year. California and San Francisco are the top state and city for such incidents with 1,226 and 292, respectively.
Before joining the patrol two months ago, Wendy said she was too scared to even leave her home for the first time, having lived in Chinatown for decades.
"I couldn't sleep at night. Every time I had to go out, it took a lot of courage. When I got back home safely, I felt so lucky," she said. In November and December last year, she was attacked six times.
The most violent assault was in December when she was walking alone on a street, two men came up to her, grabbed her shopping bag, only to find it was empty. They slammed her against a wall.
"I fell and was hurt so hard that I couldn't get up. Then they robbed a girl behind me and escaped in a car," recalled Wendy. "The right side of my body ached from the assault for a month, and I walked with a limp during that period."
Like Wendy, many members of her team have been victims of violent attacks.
"One of our members was robbed at gunpoint outside a bank. Another one was also held at gunpoint while running errands," said Victor, a shop owner who leads the patrol. He also asked his last name not be revealed for fear of retaliation.
He started organizing a foot patrol for a safe Chinese New Year early last month. The first day, he received more than $6,000 in donations from small businesses. By the end of the month, more than 40 volunteers had joined the patrol.
"We walked the streets three times a day. According to our own tally, we had pre-empted 30 potential crimes," said Victor.
His team has been reduced from a daily operation to weekends only. Another volunteer group has taken over this month. There are more than 10 volunteer groups patrolling Oakland's Chinatown.
Several videos have drawn widespread attention in recent weeks, showing mostly elderly Asians in Oakland and San Francisco being attacked or robbed.
In one video that has been viewed millions of times, a 91-year-old man strolling along a street in Oakland's Chinatown is shoved to the pavement. An 84-year-old man in San Francisco was pushed so violently to the ground last month that he later died.
"It's really, really cruel. A man this cruel should not walk free in the street," said Leanna Louie, leader of a neighborhood patrol in San Francisco's Chinatown called United Peace Corps.
She organized a daily foot patrol around Chinatown in March last year. The group has 30 members, with four people rotating every day. Over the past year, the United Peace Corps has been involved in 56 cases.
Activists say verbal and physical attacks of Asian Americans were mostly motivated by then-President Donald Trump and his supporters. Trump repeatedly called COVID-19 the "China virus" or "Kung Flu".
A study by the Anti-Defamation League shows a dramatic spike in anti-Asian sentiment on Twitter following former US president Donald Trump's first tweet about his positive COVID diagnosis on Oct 2, 2020.
"The term 'China virus' does two things. It racializes a virus so the virus is Chinese and then it stigmatizes the people so the Chinese are the ones bringing in the disease," said Russell Jeung, professor of Asian American studies at San Francisco State University.
He compiled the data on the number of attacks for the online platform Stop AAPI Hate.
Of all the incidents reported, 9 percent were physical assaults. Most of them were against women and over 9 percent were against Asian elders.
"This is just the tip of the iceberg. We've actually received hundreds more of 2020 incidents recently," said Jeung. "In the back of America's racial subconsciousness is that 'yellow peril' stereotype that we're outsiders."
He added: "In times of war, pandemic or economic downturn, Asians are more seen as foreigners. I think this is why we're getting attacked, because people have these automatic reactions to us as not belonging."
Jeung called for more education and ethnic studies for "racial empathy" and "racial healing".
"We're trying to break the cycles of violence that you see especially in low-income urban areas. And that's part of the solution," he said.