Machinery makers eye sustainable growth in 2021-25 period
Share - WeChat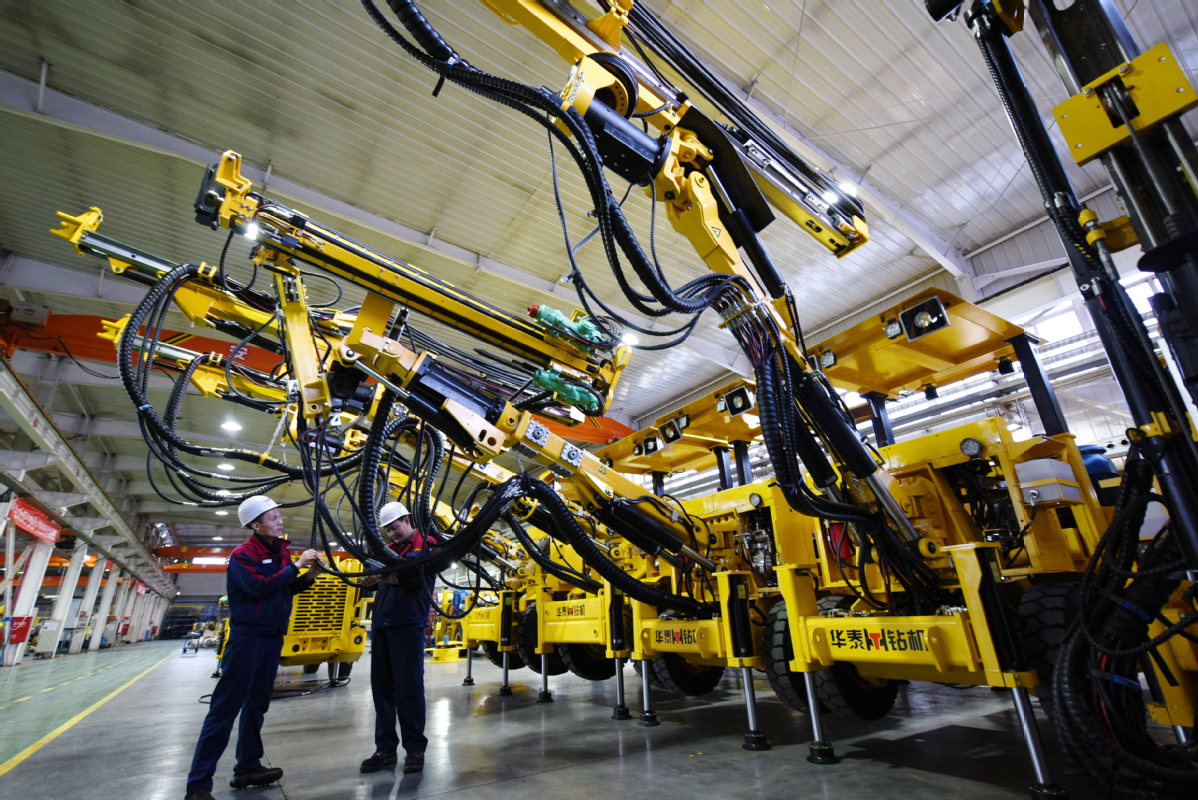 The restorative investment and construction projects planned and conducted during China's 14th Five-Year Plan period (2021-25) will create growth momentum, and further spur the structural adjustment and industrial upgrading of China's machinery manufacturing sector, said senior industry officials.
Even though the export front remains difficult and unable to support many Chinese machinery makers on account of the fluctuating COVID-19 pandemic, a number of major projects and policy measures to promote the new dual-circulation development paradigm will help stabilize the growth of China's machinery industry.
They will also create market demand, said Chen Bin, executive vice-president of the China Machinery Industry Federation.
China's new development paradigm takes the domestic market as the mainstay while allowing the domestic and foreign markets to boost each other. The country aims to develop a large domestic market while also focusing more on value-added exports, the Ministry of Commerce said.
"Continuing urbanization and large-scale commercialization of emerging technologies in China are set to drive sustainable growth of consumers, as well as the technology and high-end machinery manufacturing sectors," Chen said.
Even though affected by issues like delayed production, poor logistics conditions and overseas order cancellations, China's machinery industry posted steady performance in 2020, with revenues and profits beating expectations.
Profits of machinery manufacturers totaled 1.46 trillion yuan ($225.7 billion) in 2020, up 10.4 percent on a yearly basis, from a revenue of 22.85 trillion yuan, up 4.49 percent.
Segments like construction machinery, industrial robot and smart manufacturing all saw double-digit growth last year, according to the Beijing-based federation.
As over 600,000 5G base stations were built in 2020, and 462,000 charging pillars were constructed for electric cars, Chen said this kind of "new infrastructure" has created a sound platform for the growth of machinery makers.
The better-than-expected performance of the sector was partly due to China's positive fiscal policies, said Chen, adding the added value of the industry is expected to rise around 5.5 percent year-on-year this year.
Revenues and profits will likely also grow by 4 percent on a yearly basis.
The federation and its member companies will also strive to strike a balance between machinery imports and exports this year, he said.
The CMIF predicted that the production of China's machinery manufacturers will recover fully this year and many of its member companies have already begun to produce equipment and vehicles like negative pressure ambulances, disinfection robots and exhaust fans as part of the world's fight against the contagion.
Since the government plans to run a nearly 700,000-kilometer transportation network formed by roads, railways, waterways and air routes, build main corridors and passages as the skeleton of national transport network, and establish 100 transport hub cities by 2035, it will create long-term momentum for the country's machinery makers, especially in the construction machinery sector, business leaders and experts said.
Modern transportation infrastructure facilities can help lower-tier Chinese cities, counties and villages ship their agricultural and industrial products to other parts of the country as well as other countries efficiently, and accommodate imports such as production materials, factory equipment and consumer goods at lower costs from ports either within their regions or in other domestic locations, said Luo Renjian, a researcher at the National Development and Reform Commission's Institute of Transportation Research.
The network, which will connect all county-level administrative regions, borders, major facilities and tourism spots, will comprise roads, railways, air routes and waterways, according to the plan announced by the Ministry of Transport.
Apart from the Civil Aviation Administration of China's plan of increasing the number of civil transport airports to about 400 in the coming years, the National Railway Administration of China announced earlier this month that China will aim to build a 200,000-km railway network by 2035, including 70,000 km of high-speed railways, up from about 38,000 km at present.
Major railway infrastructure projects will be built to boost the development of China's western region, such as the Sichuan-Tibet railway and a railway corridor connecting inland areas in southwestern and southern China, according to the administration.
Amid global uncertainties, including protectionism and the COVID-19 pandemic, Xuzhou Construction Machinery Group, a Jiangsu province-based construction machinery manufacturer, said it will aim to spur industrial chain development by exploiting opportunities created by the nation's dual-circulation strategy, in order to ensure sustainable growth in the long run.
"Although the overseas market remains challenging amid the pandemic, the sizable market scale of the domestic market is bringing huge opportunities for Chinese construction machinery producers," said Wang Min, chairman of XCMG.